Our RV Travels

2013

The Adventures Begin
© Copyright 2013 by Jay H. Wilbur, All Rights Reserved.
---
October 31: Loose Ends
Halloween 2013, the one year anniversary of my retirement and the end of the loop trip around the country we began five months ago! It is also the end of our stay at South Llano River State Park near Junction, Texas. Everything seems familiar, even the birds.
Tomorrow we will be back in the Austin area. We plan on spending the next two months there visiting with family and friends and catching up on personal business. We'll also give the Sunseeker some much deserved annual maintenance. There won't be much to blog about, so this seems a good place to end the first chapter of our RV adventures. We expect to start chapter two in January with a trip to the Rio Grande Valley. See you then.
---
October 27: Fort Davis, Texas
For the past week, we camped at Balmorhea State Park and visited several surrounding West Texas venues. These included historic Fort Davis, the Chihuahuan Desert Nature Center, and McDonald Observatory. The birding was great, as was enjoying the Park's spring-fed pool.
---
October 20: Parks!
Yea! National Parks reopened. On the last two days we had in Las Cruces, we chose to celebrate the end of the government shutdown by visiting White Sands National Monument and the Dripping Springs Natural Area (BLM). Both were very special days.
---
October 13: Las Cruces
After leaving the arches and wines of San Juan County, New Mexico, and making a pit stop at Grants, we drove to the Las Cruces area. Our first campsite there was at Leasburg Dam State Park. This little park sits right on the banks of the Rio Grande. Even though the river was less than grand because of drought, it still provided some good bird habitat. We got two life birds. We also visited nearby Fort Selden State Historical Monument.
After four days we moved to an RV campground near Mesilla. In downtown Las Cruces, we got to see a fascinating exhibit of quilts made by Paul Pilgrim. He collected old quilt tops and squares and combined them to make some pretty remarkable quilts. At the Plaza in Old Mesilla, we watched some local Mariachi bands and folklore dancers. Handmade chocolate from the Chocolate Lady on the Square topped off this special day.
We had a great time in and around Las Cruces even though the shutdown of the federal government made us adjust our itinerary. Unable to go to White Sands National Monument or any of the several National Wildlife Refuges in southern New Mexico, we found places that were off the beaten path. For example, Columbus, NM, just a couple of miles from the Mexican border, is where the last foreign attack on the lower 48 states occurred. In 1916, Poncho Villa led a raid on the town, leaving 18 Americans and 90 Mexicans dead. We also visited Spring Canyon State Park and the St. Clair Winery in Deming.
---
October 2: New Mexico Natural Arches
This year marks the 25th anniversary of The Natural Arch and Bridge Society (NABS), an organization I help to found in 1988. Larry Beck, the President of NABS, presented a commemorative plaque to me this past Wednesday at one of the many beautiful arches he has documented over the past few years in northwest New Mexico. Larry also showed us several other arches in the area during two gorgeous Fall days near the Wines of the San Juan winery, where we camped. We also partook of several great wines made there. A very special few days which we will long remember.
---
September 30: Northern Arizona
For the past several days we camped on Historic Route 66 in Williams, Arizona. We drove into the area in winds gusting over 50 mph. The temperatures ranged from below freezing at night to daytime highs in the mid 80's. Whew! Despite the extremes, we had a great time visiting several of the iconic venues in this beautiful area. These included Grand Canyon National Park, Walnut Canyon National Monument, the Lowell Observatory, and the Museum of Northern Arizona. Of course, we did some birding too.
---
September 22: Pacific Views
Well, we made it, from coast to coast. A couple of months ago, we were looking at the Atlantic from Salem, Mass. The past several days we toured the San Francisco area with our friends Stacey and Rick. We didn't see the Blue-footed Booby that has been tantalizing birders all along the Pacific coast, but we did see lots and lots of other surprising and beautiful things.
---
September 15: Klamath Falls
During the past week we birded several of the national wildlife refuges in the Klamath Basin on the border between Oregon and California. Although birding was the primary focus of our stay here, we also found time to visit Crater Lake National Park and Lava Beds National Monument. Indeed, at the latter, we met up with several friends over the weekend to look for natural arches. We found quite a few.
---
September 6: Rocky Interlude
Today we visited the City of Rocks National Reserve in southern Idaho. We went to see arches, but found a life bird and some history too.
---
September 2: Labor Day Labors
The drive into the east entrance of Yellowstone National Park was spectacular. Fortunately, the Sunseeker handled the climb with ease. We camped for five days at the Fishing Bridge RV campground, touring with the Jeep over much of the Park. We saw lots of great birds (seven lifers), elk, and bison, but no moose, bear, or wolf. Of course, we also visited many of the colorful and dramatic land features for which the Park is famous, especially geysers, arches, and waterfalls.
The roads were a bit crowded over the Labor Day weekend, but we were able to get to and do everything we wanted to. Indeed, we probably overdid it a bit. So, as I write this, we are recouperating for a day in Pocatello, Idaho, back down from the mountains and on our way to California. Like the saying goes, what goes up must come down, and we are a little down from leaving this beautiful place.
---
August 27: Wyoming Roaming
Entering Wyoming, we made a brief stop at Devil's Tower, then camped at Buffalo Bill State Park, west of Cody. This was certainly one of the most scenic campsites we've ever seen. Tomorrow we move on to Yellowstone National Park.
---
August 24: Black Hills
Last Saturday, our son Bryce got on a plane in Austin and flew to Rapid City, South Dakota. We had arranged for him to join us for a week in the Black Hills. After getting the windshield in our Jeep replaced at a shop in Rapid City, we picked up Bryce at the airport and drove up to the Spokane Creek RV Campground, about seven miles from Keystone, SD, our base camp for exploring the area.
Driving the RV up into the mountains from Rapid City was an adventure in itself. There were steep grades, sharp turns with blind corners, sheer drop-offs, and plenty of road construction. In a couple of places there were narrow tunnels through the mountain rocks. Clearance for the RV was close. We drove slowly and carefully, however, and made it without any problems. It was worth the effort. The Black Hills are stunning. We also gained a little confidence in our ability to drive into and through mountain terrain. That's not something Texans are very used to.
Bryce caught a plane back to Austin yesterday. Today is our last day here before moving on to Wyoming. Over the past week we've visited incredibly beautiful scenery, a couple of interesting natural arches, some historic towns and houses, two totally different caves, two national parks and an amazing state park, and, of course, Mount Rushmore. We also saw three life birds. Here are some photos.
---
August 14: Birthday in the Badlands
Back in North Dakota, we celebrated Judy's birthday by visiting some of the many interesting places in the badlands. Here are a few of the things we saw.
---
August 9: Montana Junket
Eastern Montana has some amazing badlands to explore and we took advantage of their proximity. Getting to and through the Makoshika State Park was pretty easy because of the well groomed roads. On the other hand, getting into the Terry Badlands was quite an adventure in itself. Travelling the Calypso Trail was both amazing and terrifying. It was interesting to learn about its history as well.
---
August 8: TR Country
The small town of Medora is the basecamp for exploring Theodore Roosevelt National Park and the badlands of western North Dakota. We parked the Sunseeker in tight quarters at the Red Trail RV Campground and toured both the southern and northern units of the Park in the Jeep. The Park is embedded in the Little Missouri National Grasslands, which is just as scenic. In addition to the gorgeous landscapes, there was also lots of interesting history to learn about. But the highlight was the wildlife. We got some great views of bison. On the down side, the drive to the north unit along US 85 exposed us to the heavy truck traffic that supplies Williston during its current boom. One truck sprayed us with road debris and caused a crack in our windshield. We're hoping it holds together until we get to a place where it can be repaired.
---
August 4: Bismarck
The beginning of August found us camped in the North Dakota capital at a KOA campground. We spent a day touring the Knife River Indian Villages National Historic Site and learning about the Lewis and Clark expedition, especially their time at Fort Mandan where they met Sakagawea. Then we birded for a day at the Audubon National Wildlife Refuge and Cross Ranch State Park. Tomorrow we head for Medora and the Theodore Roosevelt National Park.
---
July 31: Jamestown, Redux
We spent the past few days driving through the potholes of eastern North Dakota. Actually, I'm not refering to the really bad potholes we encountered along I94 in Fargo, but rather the big ones out here in the North Dakota prairie. They both were caused by melting ice and erosion, but the big ones in the prairie are much older and prettier. They were caused by the melting of glaciers from the last ice age. In summer months, they fill with water and create a vast breeding ground for several bird species. Hence, the birding in North Dakota this time of year is aptly described as "world class."
We based our Sunseeker in an RV Campground in Jamestown, ND, and toured in the Jeep. Jamestown boasts the nickname "Buffalo City" and is home to the National Buffalo Museum. At 1st and Main is the Buffalo City Rotisserie Grille, a venue Anthony Bourdain would be proud to plug. Another surprisingly interesting Jamestown venue is the Stutsman County Memorial Museum. But the main attraction for us is the birding. In just three days, we spotted over 70 species, including six life birds!
---
July 28: Minneapolis
The past couple of days have been driving days. We didn't pause in Indiana and mostly plowed through the cornfields of Illinois, although we did spend a day birding and resting up at the Blackhawk RV Campground just south of Rockford.
A cold front or two came through yesterday. We actually had to turn on the heat in the Sunseeker last night. That's right, on July 27, for the first time in several months, we turned on our heater! Fortunately, it worked just fine.
Today we whizzed through Wisconsin and tomorrow we expect to be in North Dakota. Fargo, here we come.
---
July 23: Southern Ohio
This past week we centered in Chillicothe and visited some of the sights in southern Ohio. Our agenda was mainly focused on pre-historic Indian mounds and natural arches, but we saw a few other things along the way.
---
July 17: Beyond Akron
If last week was Erie, today can only be described as bizarre. Leaving the Lake Erie shore, we made our way to the Camping World in Akron, Ohio. A couple of weeks ago, we made an appointment there to have a steering stablizing control installed on the front end of the Ford E450 chassis that underpins our Sunseeker. A stock Ford steering damper came with our RV, but we had read that a more robust control would not only add safety in the event of a tire blowout, it would also ease driver fatigue from wind gusts. We had to make the appointment two weeks in advance for two reasons. First, their service center was booked that far in advance. Second, they had to order the part, a ten day affair.
After checking in our Sunseeker at 10:00 a.m., we drove the Jeep to a nearby Staples, hoping to get a couple of documents we needed printed out. Three pages, black and white. We went to the clerk at their print center and was told there were ten jobs ahead of us and that they could not schedule ours until late that evening. We explained to her that we were travelling through, only had about an hour, and that the job was only three pages. After about five minutes of fruitless discussion, we gave up. Then we went down the street to a UPS store and had the documents in our hand in about a minute and a half. Yes, UPS did the job in about a third the time Staples spent telling us they didn't have time for us.
Then Camping World called us to claim that since there was already a steering control in place on our RV (which apparently they hadn't considered when we made the appointment with them) they needed an additional half-hour of labor. That translated to an additional $70 above and beyond an already exorbitant price. We felt ripped off to say the least, but what could we do. We've had nothing but marginal experiences with every RV service center we've ever been to. This gouge seemed par for the course. The only alternative we had to paying them was to make an appointment somewhere else down our path, an option fraught with risk as well as at least another two week delay in getting this upgrade.
The good news, however, that followed this downer was that the steering control worked pretty well. A good thing, since the roads around and south of Akron were in horrible shape. Driving them as we left Akron was a stressful challenge to say the least. Having the steering control installed helped us a great deal. But we were still pretty tired when we pulled into our camp for the night, Cardinal Center Campground in Marengo, Ohio. We weren't prepared for the next odd event.
Cardinal Center Campground is very nice. We got a level and treed, full hook-up site. It was 96 degrees, however, so we were ready to turn on the coach AC. We plugged into the site electric post expecting to get cool. Ouch, no power. We checked our coach circuit breakers and found no problem. Thinking it must be a problem at the site, we asked the staff at the campground office if we could move. They said sure, if we wanted to, but suggested that their maintenance staff come look at the problem. Maybe they could fix things.
Sure enough, Kevin and Kevin showed up at our site almost instantly. They quickly determined that there was power at the site's electric post, but that it wasn't getting into the coach's electric system. They offered to troubleshoot the problem for us. We gratefully accepted their offer. Wow! After working in oppressive heat for several minutes, they isolated the problem, a loose wire in our converter. Apparently, it was jolted loose by the rough roads we had just travelled.
Then Kevin offered to fix it, which of course we accepted. Reconnecting the wire was quickly and politely done, even though all of us were drenched in sweat by the end of the task. I was very, very impressed with the competence and courtesy the Kevins showed us. Naturally, I offered them some cash as a reward. They absolutely refused this, again politely saying it was just a part of their job.
So for the third time in the day, something really good happened to compensate for, or correct, something bad. Sitting as I write this in the cool comfort of our AC, I can afford to end this chapter with the thought that our RVing today blew both hot and cold. But my final thought is really how impressed and happy I am with the Cardinal Center Campground. They certainly saved our day today.
---
July 15: Niagara Falls
As a cap to our week exploring the southern shore of Lake Erie, we visited Niagara Falls. Noting the two hour delay to cross the border, we decided to stay on the U.S. side. We were not disappointed. New York's Niagara Falls State Park is very nice, offering plenty of ways to experience the falls. We enjoyed ourselves thoroughly.
---
July 13: Lake Erie
Leaving New York, we spent this past week enjoying the Lake Erie shore in both Ohio and Pennsylvania. From Presque Isle south to the Mentor Marsh, we birded a half-dozen birding hotspots, sampled several wineries, and visited lighthouses, covered bridges, and other old edifices. In Ashtabula, moreover, waiting for the drawbridge to come down one day led us into an excellent chocolate shoppe, Marianne's. Our only disappointment was finding the James Garfield house closed on Sunday even though their website said it was open everyday except Christmas. Ouch, apparently we're another victim of the federal sequester.
Our camp for the week was the Evergreen Lake RV Campground in Conneaut, Ohio, a conveniently located camp for our activities as well as a very nice place to stay. The woodchucks certainly found it to their taste. Perhaps coincidentally, the best birding we had was at the Conneaut harbor, where ten to twelve Bald Eagles seemed to enjoy the perch (yes, that's a pun.)
---
July 9: Jamestown
Yesterday we thanked Ed for his hospitality and headed west into the Alleghenies. Our first stop was Jamestown, NY. Because of rain, we began our day today with a visit to the Roger Tory Peterson Institute of Natural History. Peterson, of course, was famous for his series of field guides. We wanted to stop here because of his contributions to birding. His paintings set the standard for birding guides for years. One of the displays at the Institute is his copy of a James J Audubon folio turned to the page on the Ivory-billed Woodpecker.
The weather dried up in the afternoon, so we went birding at the Jamestown Audubon Sanctuary. In addition to many trails through the sanctuary, they keep an injured Bald Eagle there. It's injury prevents it from being released into the wild. We were also fortunate enough to see a Canada Goose gosling and a Swamp Sparrow, a life bird for us.
Tomorrow we hope to reach Ohio.
---
July 4: Independence Day
What better way to celebrate July 4 than visiting the Baseball Hall of Fame in Cooperstown, NY? We enjoyed taking the trolley around the small, touristy town. It avoided any parking worries and was a great way to see the many interesting houses. Besides the Hall of Fame, Cooperstown boasts several other interesting museums, notably the Farmers' Museum and the Fenimore Art Museum. There are also lots of good restaurants and, as you might expect, baseball souvenir shops. The weather was great and we had a nice time in the town.
Cooperstown is on the south end of Lake Otsego. This nine mile long lake was formed by a glacier and is the headwaters of the Susquehanna River, the river that creates Chesapeake Bay. Amazingly, its shore is still rather undeveloped, making it one of the prettiest lakes you will ever see. We decided to take a tour of it.
The name of the lake, Otsego, is interesting to me. New York has towns with the names Otsego, Otego, Owego, and Oswego. Were these all named after different Indian tribes? Maybe they're corruptions of the same root word? Oh well, we might never know. Tomorrow it's off-wego.
---
June 30: New York Idyll
We took advantage of being in New York to check out one of its wineries today, the Black Bear Winery in Chenango Forks. Ed and Bob, Judy's brother, came along. Bob was up from Connecticut to visit. Most of the wines we sampled were okay, but only so so. But we did find a couple of winners and purchased some of the local product.
Judy enjoyed talking with the owner of the winery. Turns out they graduated from the same Vestal high school. Judy thought that operating a winery would be a pretty neat life choice. Hmmm. Still sounds like work to me.
Earlier this week, we were finally able to get the slide on our Sunseeker fixed. We took advantage of having to take it into the Forest River authorized dealership in Bath, New York, to also get a sway bar installed. That should help our ride as we set out across the country. We'll probably leave here in a couple of days and head for Ohio.
---
June 23: Lowell
Today we took the canal tour through Lowell. In the early and mid 19th century, a series of canals were built to provide water power to the textile mills there. We learned about the history of the city. It was the center of technology innovation in the U.S. during that era. We got to take our tour boat through a working lock on one of the canals and explore the flood gate that saved the city from disaster in 1851. The tour is run by the National Park Service, part of the Lowell National Historical Park. Sorry, forgot our camera.
---
June 22: Salem
Emily and Ian gave us a tour of Salem, Mass. The food was excellent and the sights were both historic and literary. We enjoyed taking the trolley tour of the downtown area. Then we walked to a few of the stops along the route for closer looks. We found that some of the customs near the harbor can be taxing. Even though our path is well marked, we're from out of town and occasionally had to ask witch way.
---
June 21: Mass
We decided to go up to Lowell, Mass to visit our daughter Emily and her husband Ian. On the way we stopped at the natural bridge in North Adams. There aren't a whole lot of arches in New England, but this one is unusual for another reason too, it's marble. That is quite rare.
The route we took to the arch and to Lowell runs through the Berkshires. It's a bit windy. We enjoyed getting an opportunity to stretch our legs at the state park the arch is in. Judy and Ed couldn't help but clown around for the camera.
---
June 16: Fathers Day
We're relaxing and visiting quite a bit here at Ed's in Vestal. Ed is Judy's dad. He's a veteran of WWII, a B17 co-pilot who flew bombing missions over Germany. He spent a year there in a prison camp after his plane was shot down. Later this summer he will celebrate his 91st birthday. For Fathers Day, we took him to dinner at Tioga Downs, a racetrack not far from here. Judy's very good friend, Pat, works there. She joined us for dinner. Afterwards, we stopped by her house.
Yesterday, Judy and I went to Sapsucker Woods in Ithaca to bird. Not too much activity there, but we did get a life bird, a Pileated Woodpecker.
---
June 11: Vestal
Yay! We made it to Vestal, NY, where Judy's dad lives. We'll base the Sunseeker here for a few weeks, both to visit and hopefully to get the coach slide properly fixed.
---
June 9: Gettysburg
Leaving Tennessee, we spent last night at the KOA near Natural Bridge, VA. Today, we drove through four states, Virginia, West Virginia, Maryland, and Pennsylvania. We're camped at Western Village RV Park in Carlisle, PA, while we visit my old bud from high school, Bill. It's a damp day and we decide to tour the Gettysburg National Military Park to learn about this major Civil War battle. Judy's been here a couple of times before, but it is my first visit. Wow! It's enough to make anyone a history buff.
---
June 7: Knoxville
Tuesday, we drove through Memphis and Nashville, staying in Lebanon, Tennessee. Wednesday, we stopped for a couple of days here north of Knoxville, at the Escapees Raccoon Valley RV Park. We stopped here for a couple of reasons, the main one being to sign all the closing papers on the sale of our house. We also wanted to take a break here and do a little touring.
After our settlement appointment yesterday, we visited the Norris Dam area. This area combines Tennessee Valley Authority dam lands and a Tennessee state park. Below the dam is a very good birding trail, the Songbird Trail. On it, we counted 37 species. The TVA land is also home to some historic buildings, including a grist mill and a threshing barn. In the state park, we walked a trail recommended by a park ranger and found several Kentucky Warblers, a life bird for us.
Today, we splurged a little and had an early dinner at Calhoun's BBQ. Good Tennessee pulled pork plus a couple of local brews on the Tennessee River in downtown Knoxville. We also toured the Blount Museum and visited the Ijams Nature Center. We found a small natural arch along the riverfront there. A full and fun day.
---
June 3: On the Road, Slowly
Today did not start well. Our living room slide failed when we tried to bring it in this morning. Pushing on it, we were finally able to get it in. We'll continue to New York without deploying it. A real pain. As a result, we got a late start. Driving through Texarkansas and Little Rock wasn't too bad. Quite alot of rough road around Little Rock though. I40 east of Little Rock was pretty smooth. We're parked at Delta Ridge RV Park in Forrest City, Arkansas, for the night.
---
June 2: On the Road Again, Finally
Well, we finally made it out of Georgetown. On the road to New York. Driving north on I35 with all the construction was somewhat stressful. The concrete barricades in some places are right up next to the lane. There is no margin for error. Fortunately, traffic on this Sunday morning was fairly light. Traffic picked up a bit as we circled south and east of Dallas, but the road conditions improved. Good weather and only light winds most of the way. All in all a good drive.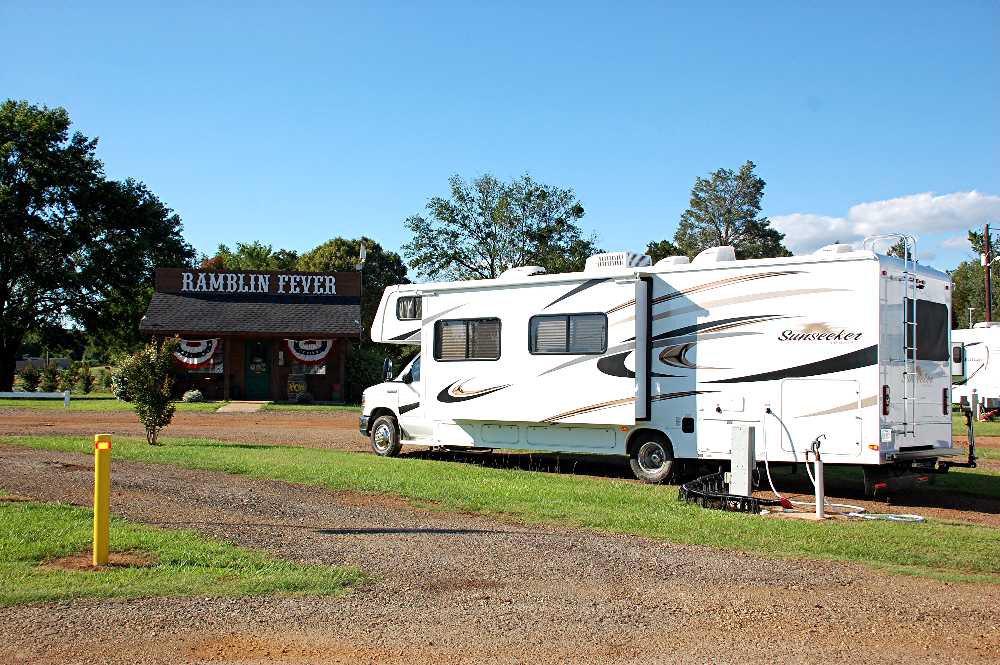 We decided to call a halt at Mt Pleasant, Texas. Makes sense to limit the driving to 300 miles per day. We're parked at the Ramblin Fever RV Park. Seems a nice place. Certainly the people here are very friendly and helpful. You never know what you might find.
---
May 30: Memorial Day Miseries
Ouch. I'm writing this while we're still parked here in Georgetown. We had planned on heading north toward New York last Tuesday, the day after Memorial Day. We haven't. Pun intended, it's been a downhill slide.
In early May we noticed our living room slide-out was mis-aligned and would not deploy fully. We also noticed a tear in one of the exterior seals on our bedroom slide. We asked about these two problems at Crestview RV, a nearby dealership and service center. They said they would have to order a new seal for the bedroom slide, but that installing it would be easy once it arrived. They said the living room slide had to be adjusted, a process that might take a couple of hours. Both items were covered under our warranty.
We asked them to order the seal and made an appointment to get both repairs done once the seal came in and we returned from the beach.
The appointment was a few days ago. We left the Sunseeker at Crestview in the morning with the understanding it would be ready for us in the early afternoon. Since we live in the RV, that was a good thing. Leaving it in a service bay overnight requires us to spend that night in a motel. It's not only added expense, it's inconvenient.
About noon, I got a call from the service rep that the adjustment on the living room slide was much more problematic than they had realized at first and it would take several hours. Since we had not planned for leaving it with them overnight, we asked them to just do the seal on the bedroom slide and we would think about what to do about the adjustment on the living room.
When we picked up the RV that afternoon, it was raining hard. The problem with the adjustment, we were told, was that the motor mount was loose. Getting to it to fix it required much more time than the track adjustment they initially thought was the only problem. We were told that the bedroom seal had been replaced and the RV was ready to go. Since it was raining, we didn't check to verify that. Mistake.
Setting up the RV that evening, in the rain, we discovered that the seal had not been replaced. We were concerned about it leaking. We called the dealership the next morning. Initially, they just said their records indicated that the work had been done and we would have to bring the Sunseeker back into them on Tuesday, the day we had planned to leave for New York. We were expecting to have to call Forest River and file a complaint. However, later that morning the Crestview service rep called us back and said he had found the seal in their shop, obviously not installed on our RV. He asked that we give them a second chance to make it right and that we could bring in our Sunseeker on Memorial Day to get the seal installed.
We decided to do that and even leave the RV with them another day to get the living room slide adjusted. The service rep thanked us for the second chance and assured us that everything would be done by Wednesday morning at the latest. So, ever trusting, we packed a bag and took a two-night Jeep trip to Oklahoma City, leaving the RV with Crestview the morning of Memorial Day.
Naturally, we called later in the day to get a status. We were told the seal had been installed and that they had begun the work of fixing the loose motor mount. The next day we called again to get a status and were told the living room work had been completed successfully and that the RV would be ready for us Wednesday morning.
But when we got to Crestview Wednesday afternoon, our Sunseeker was still in the bay. Our service rep was not in, so we talked with the service manager. He said he would look into the matter. We asked to see for ourselves and went into the bay with him. At first, things looked good. The bedroom seal was on. When we deployed the living room slide, it did so properly and looked to be correctly aligned. But then Coyote struck. Bringing the slide back in, it stopped short of the mark.
The service manager did a couple of things and got it back in, but then it would not deploy again. He asked us to wait while he had a service tech look at it. About an hour later, we got the bad news. The slide motor was burnt out, the clutch was fried, and the slide rollers were worn out. Several parts had to be ordered and the repairs would take days.
I'm going to delete a few explitives here and jump to the bottom line. A couple of weeks ago we brought our RV into Crestview for a minor adjustment and a seal replacement. After two attempts the seal has been replaced. After three attempts the minor adjustment has turned into a major repair. Yes, it's all under warranty so our monetary costs are limited to our motel bills. However, it is costing us time. We want to get to New York. We are not happy campers.
At this point, Crestview has expedited shipment of the needed parts and they should arrive tomorrow. If that happens, Crestview has promised to get the repairs done in two days. There is a chance we'll be on the road Sunday, five days later than planned. Ouch.
Lessons learned: Verify every repair before leaving the service shop. Have a contingency plan in case a repair takes longer than the shop promises it will take. Keep your cool when this kind of thing happens. There's not much else you can do.
---
May 4: Life's a Beach
No point in sitting around here while we wait for a slide seal to be delivered to the dealership near us. We decide to hit the beach. Early May is a great time to visit the Texas Gulf Coast. The snowbirds have left, Spring-break is over, and the summer season hasn't started yet. No problem getting a campsite for a week and the rates are reasonable most places. We choose to camp at Pioneer RV Resort near Port Aransas, Texas.
What a stunning place! Wonderful for birders too. Not only does it have a short boardwalk to the beach, it surrounds a marshy pond full of birds. Moreover, we really luck out on our timing. Arriving just after a front, not only is the weather great for almost the entire week, there is a mini bird fallout the first couple of days. This is the first time we've experienced one. At one of the Port A birding hotspots, Paradise Pond, a Red-eyed Vireo actually lands on Judy's arm for a second. I manage to get some decent shots of some of the warblers migrating through. I still haven't been able to get all the photos posted onto our Internet site.
After a great week, we return to Georgetown and the Berry Springs RV Park. Birding in the local parks over the next few days, we spy some of the same warbler species seen at the coast as they migrate north.
---
May: Assorted Flowers
Taking the Sunseeker into a nearby dealership for some enhancements (vent covers and rock guard), we discover that both slide-outs have problems. The living room slide-out is mis-aligned and one of the seals is torn on the bedroom slide. The dealer gets authorization from Forest River to repair these problems under warranty, but has to order parts. Hence, we'll have to take it back to them once the parts come in. In the meantime, we take it to a truck service station in downtown Austin to get a front-end alignment on the Ford E450 chassis. We have learned on Forest River's Internet forum that the alignment goes out on the Sunseekers after about 2000 miles. Sure enough, we've noticed this maintenance item needs to be performed on ours. The word is it usually holds pretty well after that initial correction.
Last night we had a brief but powerful thunderstorm. We were woken by a lightening strike within a few hundred yards. Wow! Usually you see a flash and count until you hear the thunder. We heard an explosion, then saw the flash. Pretty scary, but no damage to anything nearby.
The wildflowers continue to change from species to species. One or another is normally here until well into June.
---
May 1: A Pause Between Travels
Back from an eventful and fun-filled trip to Oklahoma City, we observed May Day by birding the Williamson County Park adjacent to our RV park. Lots of birds, including several new ones not seen by us on previous visits. The winner for cutest new bird, by a head, were the Killdeer chicks. Still not able to fly, they scamper away from potential preditors (such as white-haired photographers) as best they can. Occasionally, the photographer is rewarded with a decent snap.
The new bird that dominated the day, however, was the Dickcissel. They were everywhere in large numbers. Males were singing for their mates from just about every tree. The females were more shy, but many were still easily seen.
Tomorrow we take the Sunseeker into a dealer to get some vent covers added and a rock guard attached. The vent covers should let us keep our roof vents open even when it rains. The rock guard, we hope, will prevent us from spraying pebbles onto our toad. (Wow, I love this RV lingo.)
---
April 26: Blackjack and Hail
Yippee! We have a sales contract on our house. In part to celebrate, we took a trip to Oklahoma City the last weekend in April to visit our son Peter. We invited Mom to come with us. She enjoys traveling too, and does quite well despite being 93. On our way up to Oklahoma, we stopped at the Winstar Casino on I35. We don't gamble, but Mom enjoys it on occasion. This time she won about $100 at the blackjack tables. I watched her play. She's good.
In Oklahoma City, we got to visit a couple of days with Peter and his girl friend, Cheyenne. We enjoyed the city section known as Bricktown and sauntered through an outdoor arts festival even though it was somewhat cold and windy. Then, Mom took us to the National Cowboy and Western Heritage Museum. Wow, the food in the cafeteria there is fantastic!
During our stay in Oklahoma City, we got clobbered one night by a strong hail storm. Unfortunately, the Jeep suffered pretty severe dent damage on the metal parts, e.g., the hood. There was also some plastic fittings broken. Fortunately, the glass did not crack, so we were able to drive home without inconvenience.
Driving back through Fort Worth, we stopped so Mom could take us to the National Cowgirl Museum and Hall of Fame. Of course, we took some photos of her while visiting the museums.
---
April 20: The Egret and the Kite
The Great Egret is a beautiful bird. During breeding season its plumage bursts forth brilliant white whisps somewhat like a giant seed-globe of a Dandelion. It is a large bird with a long, slender neck and a sharp, yellow, dagger-like beak perfect for spearing fish and crustaceons in the shallow ponds it wades through. Amazingly, it is also as graceful in flight as it is pretty on land.
We have a soft spot for Great Egrets. One chose to christen our new Jeep a few months ago. See the photo below near the start of this blog. We've let this image become symbolic of our new freedom to travel at will. Hence, today's experience held a special poignancy for us.
This afternoon, after taking a load of hazardous material (mainly paint) from our house to a special city disposal center, we decided to have some fun and ride our trikes through the county park adjacent to our RV campground. As we pedaled through the park looking for birds, we almost immediately spotted a Great Egret in the clutches of a kite.
Unfortunately, this was a man-made kite, not one of the several species of hawk-like birds-of-prey called kites. No, in this case, someone must have lost control of a kite and left it tangled in one of the park trees. The string had somehow gotten wrapped around the left wing of a Great Egret. The poor beast was hanging like a pinata, suspended by twine from a branch, unable to fly or even perch. The kite had become a perfect, if unintended, snare. Dangling up-side-down, the egret would occasionally struggle to get loose, all to no avail. By the time we saw it, it was near exhaustion.
The time was nearly 5:00pm, but we rushed to the park office in hopes of getting some help. To our relief, not only were they still open, they expressed concern and got us to show them where the bird was. They found a ladder and a tree-branch cutter and brought it to the sight. The plan was to cut the kite twine and free the bird. As they carried out the plan, however, the egret made a final, frenzied attempt at flight. Somehow it managed to free itself. But with a seriously injured wing, it was not able to fly. We left it perched on a limb in an adjacent tree and obviously in shock. We hoped it would be able to get to some nearby water, survive (there was no apparent injury to its head, neck, body, or legs), and eventually heal.
Regardless of how the bird fares, however, we want to thank the park staff involved. It would have been easy to just dismiss us and leave the bird to die a slow, horrific death. Their actions gave the bird a chance to live. They exhibited the kind of dedication and resourcefulness we'd all like to think was a characteristic of every park ranger. One more reason to like this place.
---
April 19: Enchanted Rock
Today we visited one of the jewels of the Texas State Park system, Enchanted Rock State Natural Area. The signature feature of the park is Enchanted Rock, a hugh granite monolith in the middle of Texas Hill Country. Most visitors are satisfied with just taking the enjoyable, if somewhat strenuous, hike to the top of this giant chunk of stone. We've done that quite a few times in the past ourselves. But today we decided to hike the four-mile loop trail that circles the rock.
Glad we did. We saw several good birds (the Summer Tanagers were spectacular) and wildflowers. There is even a small natural arch just off the western edge of this circuit. Four miles is a little more than we are used to and we were just a little tired when we got back to the Jeep. But the weather was great, a really perfect day. It was a happy tired.
---
April: Showers and Other Transitions
Moving into and living in the Sunseeker has certainly required a few adjustments on our part. The most obvious is the much smaller space. We've moved from a 3200 square foot house to a compact living area less than 200 square feet. Of course, the house was way too big for us. We were probably only using a fourth of the space to live in. The rest was either empty or being used to store things.
Our house, a five bedroom, two story suburban box, is now empty and on the market. Getting it that way has been a challenge.
All of our four kids have left the nest. One is married and going to graduate school in Lowell, Mass. Another is a manager at a restaurant in Oklahoma City. The oldest is a system network admin for a financial services company in Austin, Texas. The youngest is a contract truck driver for a plumbing supply company, also in Austin.
As they left, one at a time naturally, Judy and I turned a couple of their bedrooms into offices. These filled with personal memorabilia that were, at least in a couple of cases, old enough to qualify as artifacts of historic interest. When I say filled, too, I'm not exaggerating. Going through all this old junk and disposing of it was nothing less than traumatic. Since most of it pre-dated the digital era, it wasn't light either. For example, moving my LP collection downstairs and out the door was back-breaking as well as heart-breaking. The guy I gave it to might very well be the last living audiophile in Texas. When I inquired at an Austin library if they would like the collection as a donation, the librarian asked me politely what an 'LP' was. Twenty five cubic feet of vinyl. Goodbye.
As we wait (perforce patiently) for a house buyer to make us an offer, we're adapting to the RV lifestyle. So far it's going rather well. We've not had any problem getting used to sharing the much smaller space. A month of living together in the Sunseeker has done what the twelve previous years of marriage hadn't, proven we are compatible.
Perhaps the single toughest thing for me to change was how I take showers. The Sunseeker shower is quite small. In the house, I was used to having essentially unlimited hot water and water pressure. Now I have to be aware of the limits to both imposed by the RV. But a month of doing the short-term planning necessary to make the Sunseeker shower work for me has finally habituated into a process I am comfortable with: decide with Judy when we each take our shower, make sure the water heater gets turned on 20 minutes before that, leave the grey water tank open to our sewer connection during the shower, turn off the water heater when I'm done, wipe down the shower walls to keep them from getting water stains, close the grey water tank. Yes, fortunately for Judy and our family and friends, I am keeping my BO to a minimum. RV shower phobia is a thing of the past.
---
March: ... Out Like a Bonnet
It's raining. Good time to catch up on this blog. It has been a rather busy March getting our house empty and cleaned up for sale. Pretty boring stuff, but we have had a couple of adventures.
We're living in the Sunseeker now fulltime, but spending most daylight hours at the house, working on it. A couple of nights ago we had a hail storm as we slept in the RV. Wow, what a racket. What a way to be woken up in the middle of the night! The hailstones were marble sized, but seemed relatively soft. Even though the temperature was in the 40's, the hail melted and refroze. We had "snow piles" the next day all over the ground.
Fortunately, the hail did not cause any significant damage to the RV, our house, or our Jeep. It did knock a small hole in one of our RV vent covers. Surprisingly, not much water leaked in. The next morning we got up on the roof of our Sunseeker for the first time and repaired the vent cover temporarily with some duck tape. Seems to be keeping the rain out today. Whew.
Last Sunday, the last day of March, was Easter. It was gorgeous here in Central Texas. We took our mom for a ride in the Jeep to see wildflowers. Not a spectacular year for wildflowers this year, because of the drought we've had for the past two years, but not too bad either. We saw quite a few Bluebonnets along the roadsides as well as some Evening Primrose, and one or two other species. We made a stop at McMahan to pick up my brother (John) and his wife (Marti), then had BBQ for lunch in Lockhart. Our mom (Stella) is 93. She had a great time, as did we all.
Yesterday, we stopped working on the house early and came home (the Sunseeker.) We decided to get out our trikes and tool around the adjacent county park. We took our binoculars and did some birding too. Lots of the same species we've seen here before, the red-headed woodpecker is still here in full adult plumage, but some nice new ones too. We saw a large flock of pelicans flying north, the first black-chinned hummingbirds of the year, and proof that Spring has arrived, three scissor-tailed flycatchers.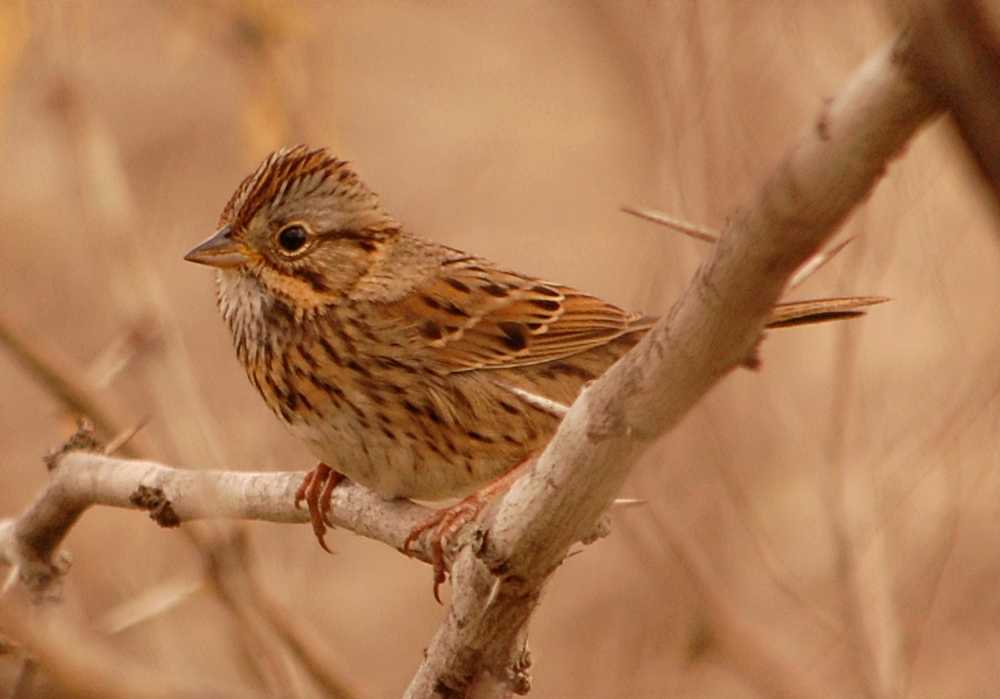 But the bird that stood out for us, indeed seemed anxious to pose for us in several places in the park, was Lincoln's Sparrow. Last year they were as scarce in these parts as the rain was. This year, they have come back with gusto and seem to be staying late. Indeed, most of our wintering sparrow species seem hesitant to leave for their summer breeding grounds. Funny, the same might be said for many of the snow birds in this campground. Perhaps the cold hasn't yet let loose its grip on northern venues. It's raining here. Snowing there?
---
March 15: Idle Ides
It's March 15. We decided to take a break from working on our house. This morning we did a little birding at the county park next to our RV park. We had a great time and saw lots of birds. The highlight was a red-headed woodpecker. Not rare for Texas, but rather unusual for the Georgetown area. This evening we looked for Comet Panstarrs. Not all that impressive in the late dusk, but the first comet we've seen since Hale-Bopp almost 20 years ago. It reminded us a little of the woodpecker. A great day! Back to work tomorrow though.
---
March: In Like a Bear ...
On March 1, we moved our RV from the storage lot where we had been keeping it to the Berry Springs RV Park near Georgetown, Texas. We rented site #6 for the month of March. We'll keep the Sunseeker here while we get our house ready to sell.
Berry Springs RV Park is the perfect campground for us for several reasons. First, it's fairly close to our house so commuting is not too onerous. It is also a very pretty campground adjoining a county park with nice hike and bike trails. The county park is also a birding hotspot so entertainment is a short walk away. The RV campground common areas, laundry, showers, etc. are recently renovated, modern and clean. Finally, the monthly rental is pretty reasonable.
Our first week here we got a couple of good lessons on some of the problems that can happen camping in an RV. While we were away from the site, working at our house, the water hookup broke off on the campground side of the faucet. Water gushed out with enough force to dig a small hole under our Sunseeker. Fortunately, our neighbor in site #7 noticed and phoned in the problem to the office. Mainenance was able to fix things before any damage was done to our RV.
Imagine our surprise when we got back to the site and found a puddle of water under our RV. We checked out our plumbing and found no problem. Since maintenance had reconnected us after fixing the hook up, everything was working fine. We called the office and heard the story about what had happened. After thanking our neighbors, we decided to move the RV a few feet forward and re-level it to avoid any possible shifting the water might cause. First bullet successfully dodged. Or was it?
The next day brought us a much more serious problem. We got back from the house to find none of the Sunseeker electric systems working. Both of our coach batteries were dead. They could not even drive an interior light. Fortunately, the chassis battery still had a charge and we were able to get the generator started. A little investigation led to the discovery that we had no power coming from the electric hookup. Since we had left the refrigerator on while we were gone, it drained the batteries once the shore power failed.
Checking with our neighbors, we learned no general power failure had occurred. We reported the problem to the office and maintenance was called. The campground engineer found that there was power coming to the site's electric box, but nothing was getting through to our 30 amp plug or the 20 amp plug. The 50 amp plug seemed to be working. When he replaced the circuit breakers on the box, the problem seemed to be fixed. Unfortunately, it wasn't. After about an hour, our shore power failed again. The next attempt by maintenance was to replace the electric meter for the site. Again, this seemed to fix the problem, but again, after about an hour our power went out.
At this point we were beginning to think site #6 was jinxed. We asked if we could move to a different site so that we could have shore power and get our batteries recharged. Unfortunately, they were completely full. No other site was available. We considered moving to a different campground, but the Spring-break events filling Berry Springs were also filling most other local RV parks. We also really like this park and did not want to leave.
Then our luck changed. The office and maintenance engineer called the park owner. He gave them approval to replace the entire site electric box. This finally fixed the problem and we are plugged into shore power now as we write this. Our batteries are fully re-charged and everything is working just fine again. We're still not certain what caused the power failure, but most likely some kind of intermittant short was happening somewhere in the box circuits. Possibly, this was caused by the water break the day before.
The silver lining to this sequence of problems is the set of great lessons we learned. First, we got to work with the engineer (and our great neighbors) to try to diagnose and fix the problem. We learned a boatload about our camper and the campground hookup. But much more importantly, we learned how the RV community, at least at this park, pulls together to get problems solved for everyone and anyone in it. Thank you Berry Springs management and residents.
---
February 17, 2013: President's Day Christening
Today we saw a bald eagle. It soared over the small lake our RV site adjoins, scaring many of the ducks we were watching into flight. At first we thought we had spooked them, but then we saw the eagle. Spotting it was the highlight of a great weekend of birding during which we were able to identify 55 avian species. The weekend was also notable because it was our maiden voyage in the Sunseeker.

We chose Lake Falling Star RV Resort as the place to christen our motorhome for several reasons. It's location, McMahan, Texas, is about 70 miles from our house. Just the right distance for a first weekend excursion. It's a birding "hot spot" so provides ample entertainment potential for us. It is a modern, clean, inexpensive, and scenic campground run by a very friendly couple. But the capper is that it is located quite close to land owned by my brother and his wife. They chose to camp on their land while we were at the RV campground and spent much of the weekend with us. They are also birders, so we spent most of the time birding the area around their pecan grove and Lake Falling Star, where we saw the eagle. We also took an excursion to Palmetto State Park, which is just a few miles south of here.

A cold front came through on our first night. Very cold and windy, with occasional, brief downpours of rain. But we stayed comfy in the RV all night. Indeed, we probably were just a little too hot after setting the themostat too high, the result of being unnecessarily worried about the weather. The next day, however, was perfect, sunny and warm (mid 60's) with a light breeze. The kind of February day in Texas that turns northerners into snow birds.
Okay! Our RV is great. Spending the weekend in it gave us even more confidence that we have charted a course that is right for us. We've had a blast here! The one minor problem was finding a small, slow leak in the bathroom sink fixture. It was easily repaired. It soaked our hair dryer, but fortunately that was the only item we had stored under the sink so no real harm was done.
Below are a couple of photos my brother and sister-in-law took. On the left, Marti rests after birding Lake Falling Star, seen in the background. On the right, Judy, Jay, and John bird Palmetto State Park.
---
February 14, 2013: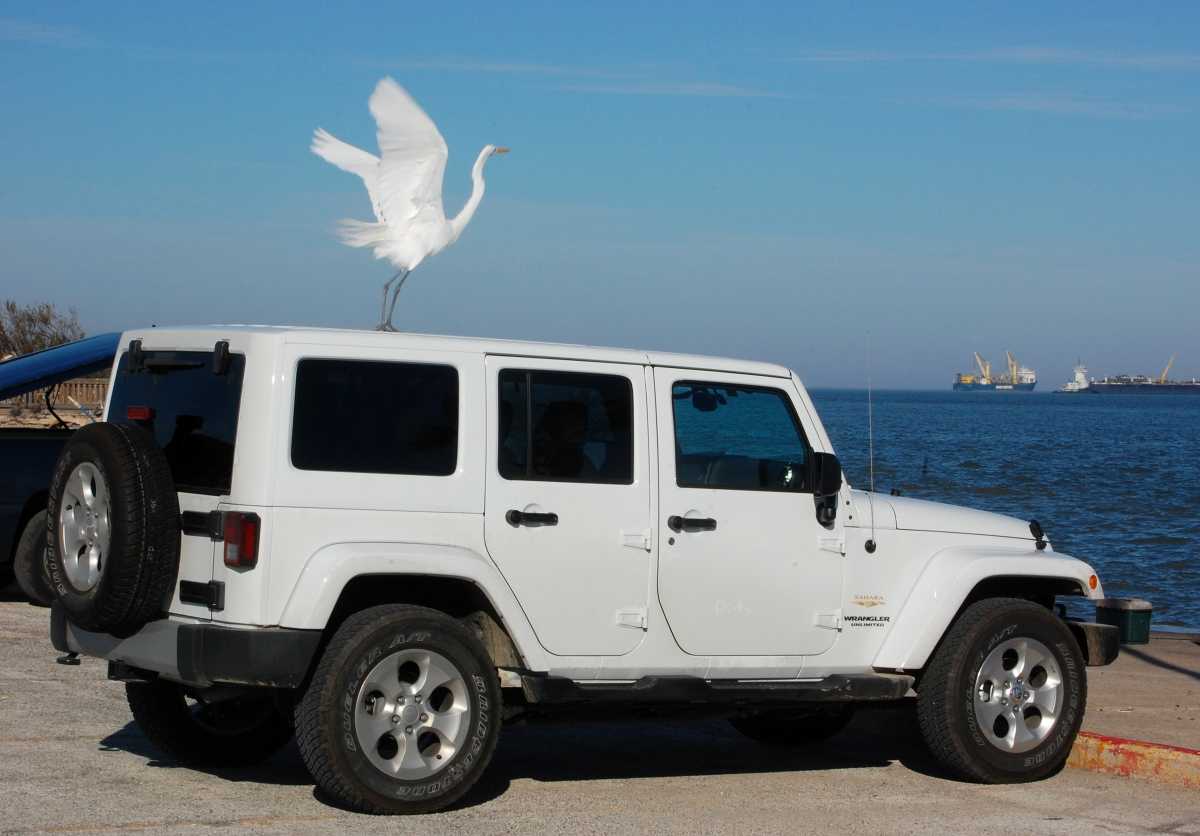 Our Jeep Gets an Appropriate Christening on Galveston Island.
Judy and I love to explore the backcountry. There are many, many places with outstanding scenic qualities that are in neither our national nor state park systems. When we find one of these places, we are often alone with a sense of fresh discovery. It's exciting to be there, but it usually takes a little effort to get there. One either has to hike for several miles or take advantage of off-road trails. That's where our Jeep comes in.
For a long time, I've thought the Jeep Wrangler was the best available stock vehicle for getting to remote places. I still think the Rubicon is probably the ulitmate off-road, 4-wheel-drive vehicle. But if you also want to drive on the highway in any degree of comfort, some trade-offs are in order. Overall, the Sahara impresses me as that optimal compromise, delivering great highway comfort and great off-road performance.
So, when I retired, I traded in my commuter for a Jeep Wrangler Sahara. Now we want to tow it along with us, behind the RV. No problem, the Sunseeker comes fully equipped to tow. The Jeep, on the other hand, needs some after-market modifications before it can become a "toad." A little research convinced me there are several excellent products that can do what we need. We chose a RoadMaster system that includes a Falcon-2 tow bar and an Invisi-brake. We had a local shop install them on Valentine's Day. Yes indeed, we love our "toad."
Also loving puns, I'd like to say this all went without a hitch, but I can't. The after-market tow brackets for the Jeep have to be installed at a height of about 22 inches above the ground. The towing hitch on the Sunseeker is about 17 inches above the ground. This five-inch difference is too great for safe towing with just the Falcon-2. Fortunately, there is an adapter available that gets the delta down to one inch, well within safety limits. Just had to order this separately and attach it to the RV towing hitch. Ahhh...finally we've got things the way we want them. The adventure begins. Where to first?
---
January 2013: Purchase and Preparation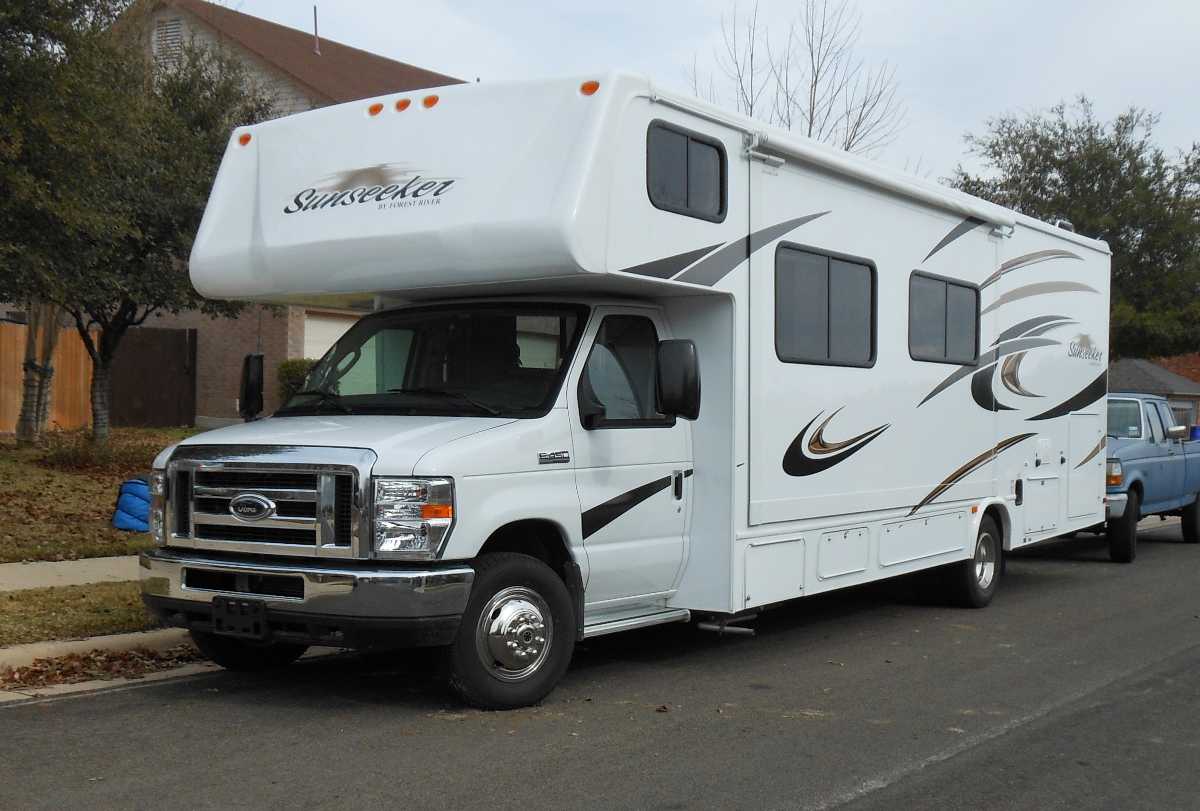 Our 2013 Forest River Sunseeker 3010DS Arrives!
After doing a lot of research on the Internet, at RV shows, and at several dealerships, we decided on a Class C Motorhome for our RV-ing. We want something fairly small, but comfortable. We also need it to tow the Jeep Wrangler we use for exploring backcountry. The Forest River Sunseeker looked like the right choice. The 3010DS floorplan fit us nicely. In late 2012, we started looking seriously for a 2013. Who would offer us the model we had decided on at the best price?
It turned out to be RV Direct by several thousand dollars. Ordering an RV to be built for you has its pros and cons. On the plus side, our RV is tailored to our exact wants and needs. We have the options we want, including some spiffy bells and whistles. We didn't have to make any compromises because of what the local dealers had in stock. Of course, the much lower price was the big plus.
Our sales and financing experience with RV Direct, done mostly via email and a couple of phone calls, went quite well. We got our questions answered, got our order exactly right, and got the financing we wanted. As part of our package, we chose to have the unit delivered to our home. We could have picked it up at a point-of-sale dealership instead. RV Direct has three or four spread throughout the country. But the closest one to us is a thousand miles away. Our travel costs would have been comparable to the delivery charges. We thought we would save ourselves some time and grief by paying for delivery. In retrospect, that was a mistake.
Even though we paid for full dealer prep and a full demonstration of all the unit's features upon delivery, we didn't get either. On its arrival, we found the coach hadn't been cleaned, let alone detailed. There was only a partial set of documentation. We still don't have operator manuals for all the appliances. Several items needed repair and adjustment. Some of the parts were not what we had ordered. Because the coach had been winterized, we were not even able to check out the plumbing.
Perhaps worst of all, the driver who delivered the unit was unfamiliar with the coach and how to operate it. In lieu of a demonstration, we did as much of a walkthrough as our limit knowledge permitted. Although the driver tried to help, he knew less about the unit than we did. We thought we were going to get a demonstration by someone knowledgeable. As I said, we didn't even get a complete set of manuals.
Even our superficial walkthrough found several problems. That's when the real frustration began. The dealership designated as the point-of-sale was a thousand miles away. Pretty hard to hold their feet to the fire via phone. They just told us to take it to a local dealership to get an estimate for the repair and adjustment work that was needed. But the local dealerships authorized to work on Forest River coaches said it would have to be done by the dealership that sold us the unit. They would not do the work. We found ourselves in a very unfriendly catch 22.
Fortunately, when we called Forest River, we found they were helpful and willing to stand behind their product. With the assistance obtained from them, both over the phone and via the Forest River technical forum, we've been able to get almost all the issues resolved ourselves. It has been frustrating and painful at times, but the silver lining is how much we've learned about our new unit.
What are the lessons to be learned? What would we do differently had we known? Probably just one thing. First, we love the product. The Sunseeker is a quality product and Forest River stands behind it. Next, the purchase experience was first rate. The RV Direct sales and finance staff were great, and the price was terrific. But we made a bad mistake in having the unit delivered to our home. In retrospect, we would have been much, much better off buying a plane ticket and picking up the unit from the point-of-sale dealership. Had we done that, we could have made sure the unit was properly prepped and demostrated to us, and that all repairs and adjustments were made before we took possession.
Bottom line, however, is that we are happy with where we are today. The money we saved more than compensates for the grief of our delivery error. Wiser, we are ready to hit the road. But first we have to get the Jeep ready to be towed. Hopefully, that won't take as long as getting the RV ready and will be the subject of our next installment.